In the future, it may be surprising for historians to observe the thirty year period before the 2020s and find seemingly minimal interest in both digitization and the internet within the larger contemporary art movement.
This fact is particularly noteworthy considering these elements will have revolutionized nearly every aspect of modern life – from our personal lives to international commerce – and everything else in between. However, one of the first movements historians will find is the "net art" movement, which has its origins in the 1990s, when commercial trends of personal computing and home internet began to converge.
Kim Asendorf, the now critically-acclaimed digital artist from Germany, joined the net art movement in 2008. In 2011, Asendorf launched "Gif Market", pioneering a new kind of marketplace for digital art pre-dating early blockchain-based marketplaces.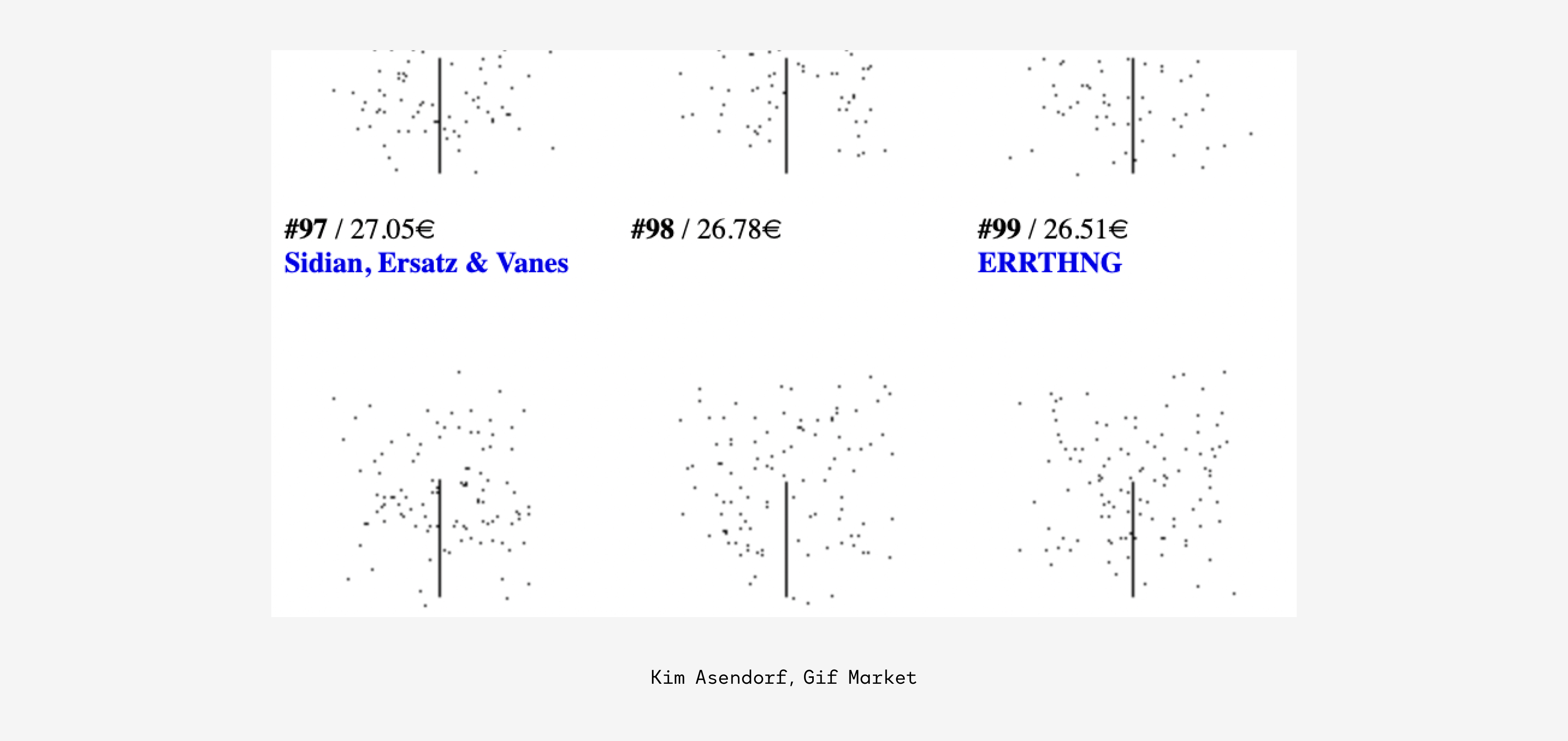 In Asendorf's marketplace, buyers could select each of 1,024 pixel compositions characterized by descending levels of rarity. The initial composition consisted of a single pixel, and the final compositions were dense animations filled with numerous pixels, barely distinguishable from one another.
Artworks were sold using a dynamic pricing mechanism that gradually increased in value. After collecting, individual collectors could attach their names to the pieces – on display for the world to view on the Gif Market web page.
Among the early collectors who attached their names in 2011 was internet art pioneer XCOPY, for whom, reportedly, this was the first digital artwork they ever acquired. Interestingly, Asendorf had effectively predicted – and experimented with – a proxy for digital art ownership, long before blockchains were used to record digital object ownership.
Shortly after Gif Market, Asendorf, in collaboration with friend Ole Fach, started an online gallery titled "Fach & Asendorf Galerie".
Rather than the traditional white cube space, the duo used a custom-built website that gave them complete freedom on the front end. Each month, the website hosted solo and group exhibitions, featuring artists such as Nicolas Sassoon, Sara Ludy, and Jan Robert Leegte.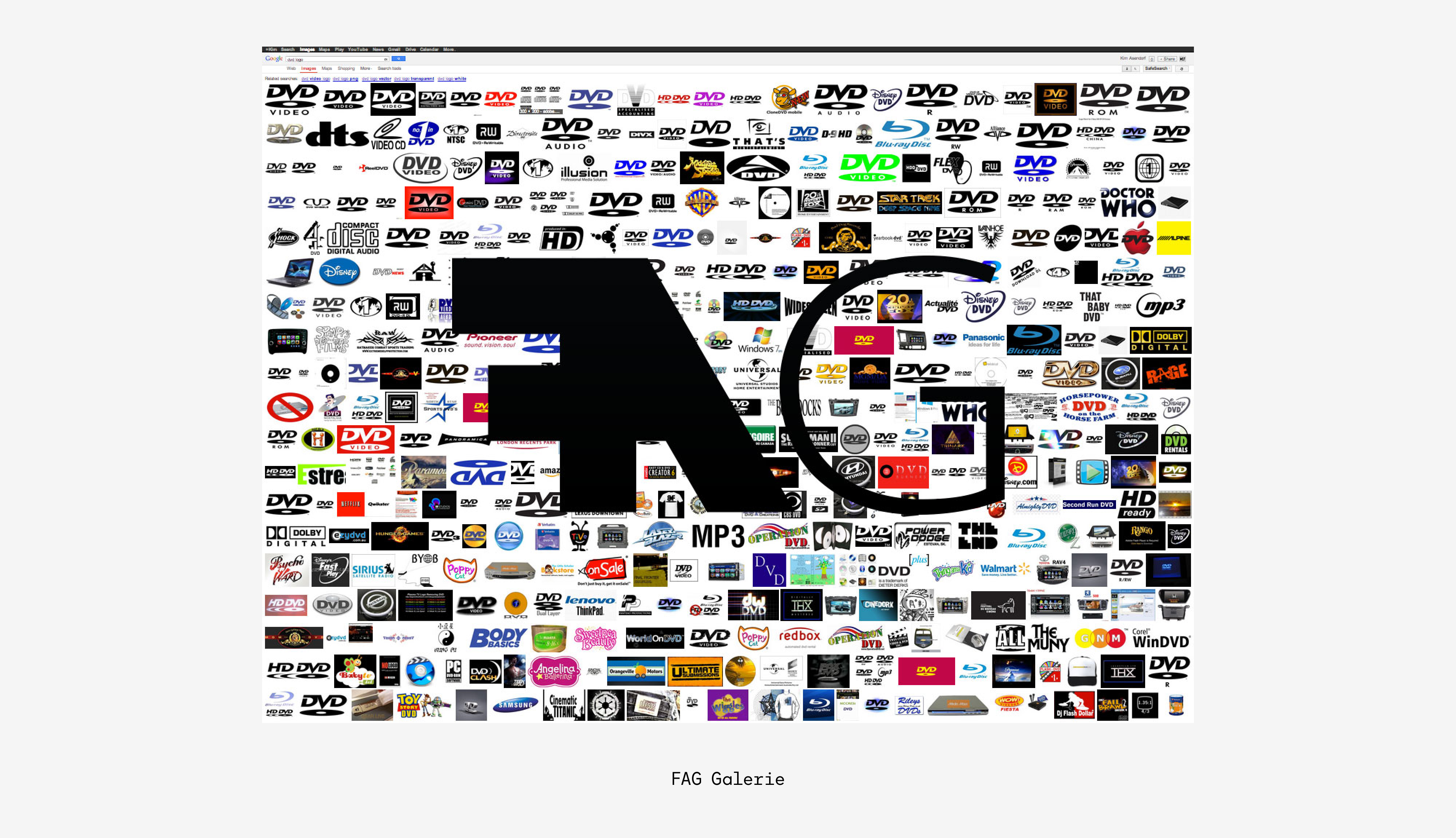 At the time, one of the gallery's partners described it as follows:
"The Fach & Asendorf Gallery is the major online exhibition gallery for net art, media art, digital madness and satisfaction. They believe in electricity, bits, brains, glitch and curiosity."
It was during this period that the website emerged as Asendorf's favored medium, enabling viewers to fully immerse themselves in a new form of art. The medium allowed the art to dominate the entire screen, presenting digital work in an immersive manner. This preference could be interpreted as a form of "Umfunktionierung", or repurposing, where the typically functional constraints of a webpage is transformed into a new digital canvas.
In 2017, Asendorf began working with WebGL, inspired by the work of artists like Andrew Benson and Ezra Miller. This is the period where Asendorf developed the signature style he is known for today – the pixel sorting algorithm and his unique, dynamic compositions.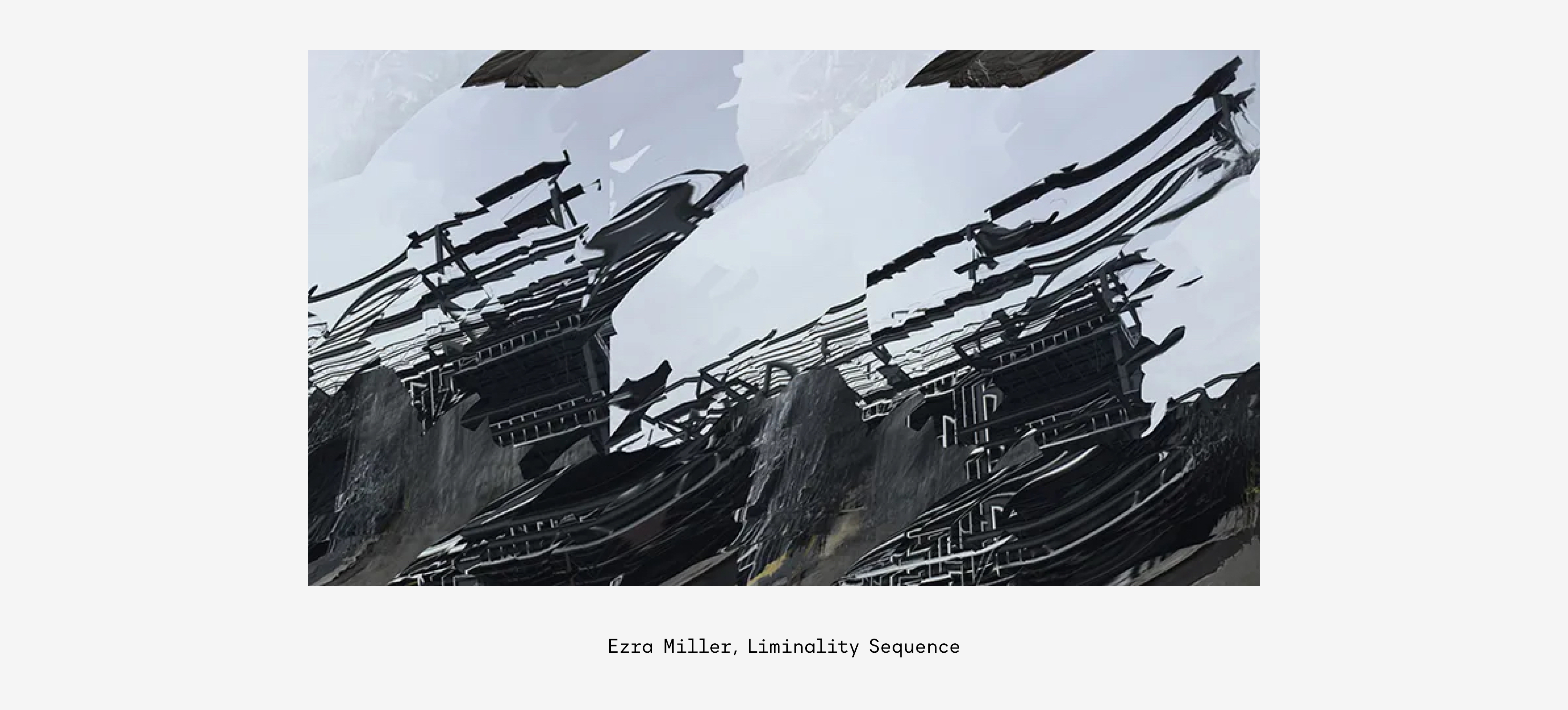 In 2021, at a time when the enthusiasm around digital objects started to reach a local zenith, Asendorf chose to join the movement from the margins, minting his first works via the Hic et Nunc contract on the Tezos blockchain.
Later, in October 2021, Asendorf manually minted 256 iterations of "Monogrid"—a signature work that would lay the foundation for his future projects on the Ethereum blockchain. With a proper auctioning mechanism still lacking, Asendorf reverted to his conceptual and performative style. He organized a Twitch live stream, accepted offers sequentially, with people placing live bids in response to announcements made during the stream.
After these initial experiments on Tezos across Hic et Nunc, Objkt and fxhash, Asendorf finally transitioned to Ethereum, as the blockchain's properties provided him the opportunity to code his own smart contracts. Projects like "Sabotage" and "Rainbow Grid" would emerge, which further developed Asendorf's pixel sorting style with specific foci.
Concept and Composition
On Twitter (X), a modern day town square for conversations on technology, crypto, and digital art, debates frequently arise over whether an artist's style should exhibit consistency – often interpreted as immediate recognizability and repetition of familiar elements. Some advocate for consistency as a criterion, while others champion uniqueness and variety.
However, we argue that framing the discussion as such is insufficient for evaluating an artist's work. The trajectory of a timeless artist is characterized by evolution, where one series of works interacts with and responds to the next—either by elaborating on an emerging theme, addressing challenges encountered, or negating a previous direction. This progression cannot simply be a series of isolated, unconnected instances, nor a continuous repetition of the same elements.
Kim Asendorf's work serves as an exemplary representation of such artistic development. He released the pixel sorting algorithm in 2010, and since then, has continuously refined it through a sequence of projects—each one immediately recognizable, yet entirely distinct.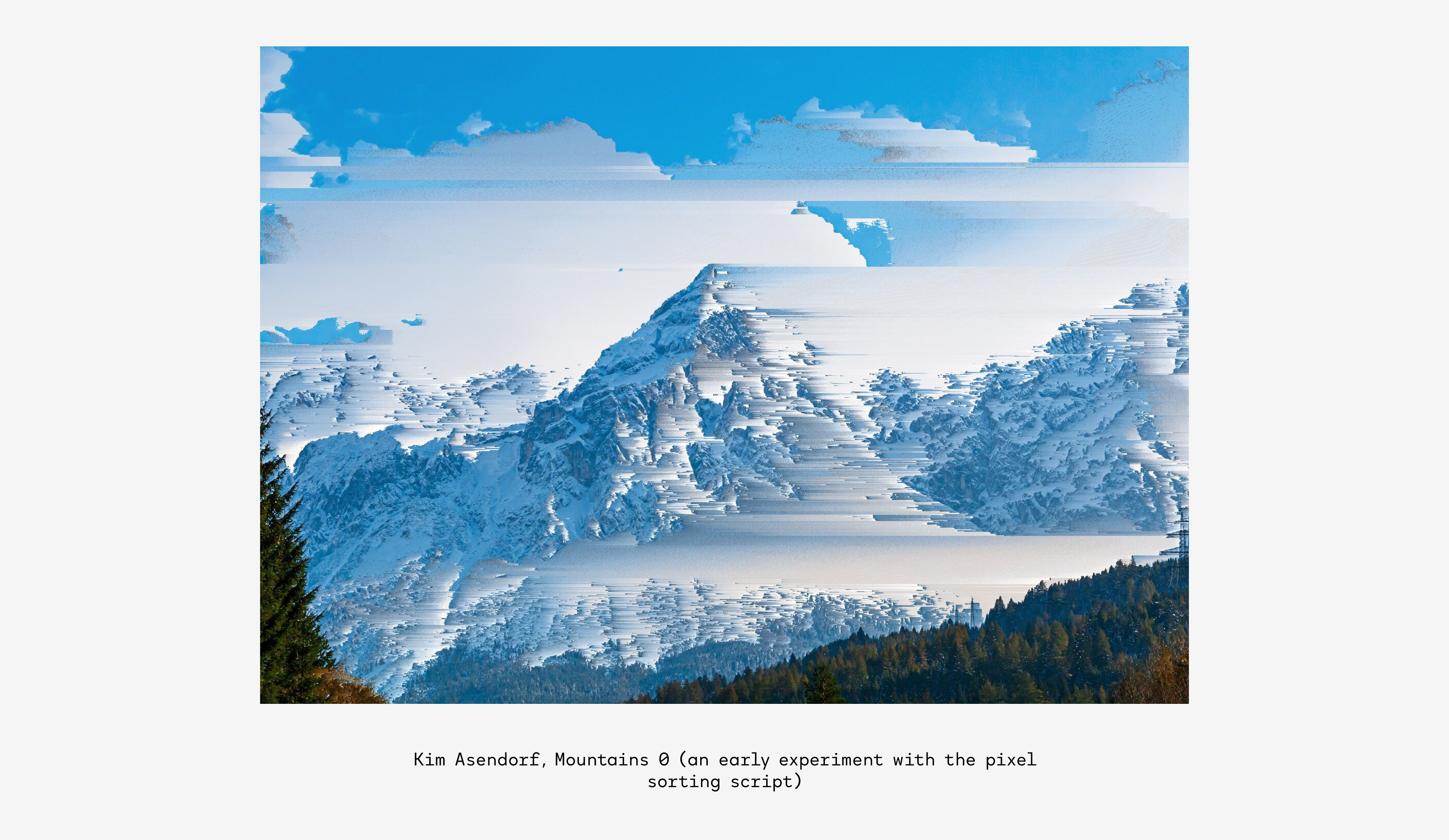 Conceptual art distinctly differs from visual art, grounded in ideas, rules or instructions whereas visual art anchors itself in aesthetic stimuli. For conceptual artists, the sensation is the idea itself, not the image. In Asendorf's work, one can observe how this focus on a set of rules can lead to visual spaces no one has explored before.
The pixel sorting algorithm provides a conceptual solution to questions regarding composition within generative systems. As discussed in our previous articles, generative art is fundamentally rooted in chance. Randomness, however, introduces complexity to composition, allowing only partial control over the arrangement of elements. Many generative artists mitigate this by optimizing their algorithms to avoid undesirable outcomes, biasing them towards harmonious ones.
By contrast, Asendorf employs a dynamic and conceptual approach to composition. The foundational compositional principle of his pixel sorting algorithm is a balance between order and chaos. Composition takes the form of a balance between these poles, which hold the output in a state of a dynamic tension.
Cargo
In March 2023, 1,000 outputs were generated off the Art Blocks contract that appeared vastly different than anything the generative art community had seen from the Art Blocks platform.
Each output could be freely adjusted to any resolution or screen size;
Each work's live animation represented a dynamic balance between order and noise;
Each output's "liveness" captured audiences in ways often unattainable with purely static work.
Early on-chain generative art collectors tend to favor static aesthetic works over dynamic conceptual ones. Yet Asendorf's Cargo extended the dynamic conceptual framework in a new direction, and interest surged shortly after the Dutch auction, which settled at 0.24 ETH. Soon, Cargo was swiftly recognized as one of the most outstanding generative releases of the year.
Technically, Cargo is a real time WebGL animation written in JavaScript and GLSL. It is a dynamic artwork that automatically adjusts to fit any screen size. The overall structure of the 'macro block' can stretch both horizontally and vertically, and the micro blocks within each composition adjust simultaneously.
When running "live" in the Art Blocks generator, Cargo stretches to fill the entire browser window, adapting to its dimensions, a continuation of Asendorf's emphasis on a website as his preferred medium for viewing art.
In many respects, Cargo encapsulated several years of Asendorf's practice, from his net art days to his engagement with on-chain generative art. Like all of Asendorf's pixel sorting works, Cargo operates on two interconnected layers:
On one layer, a macro block represents the entire image.
On the other, micro blocks work within the larger block and modify it through feedback loops. The moving elements within these micro blocks are pixels, which themselves are micro rectangles.
When Asendorf repeatedly refers to his works as paintings – and in turn labels Cargo as a series of abstract paintings – it stems from the continuity of the rectangular shape: from the elementary building block of the pixel, to the micro and macro block structure. Just as Piet Mondrian and Josef Albers devoted lifetimes to exploring rectangular compositions on canvas, revolutionizing composition and color theory, Asendorf seeks to achieve the same with his blocks of pixels on the digital canvas.
The outputs exhibit a high degree of diversity despite having a constrained range of variation. The color palettes are typically confined to black and white, are duo-chromatic, or incorporate up to three colors. Characteristically, the colors used are highly saturated, a nod to the palettes of early computer graphics.
Above all, it is the dynamic compositional principle that can produce both minimal and highly complex, dense works, making each piece unique.
Asendorf's visual world is made of raw, visual pixels, inspired by nineties consoles and an era of computer graphics in which every attempt at representation would betray the abstract, rectangular shape of the pixel. In our contemporary world of interpolation screens, which present images with more pixels on the screen than actually exist in the image matrix, his works seem to pierce beneath the surface and remind us of an earlier, more immediate relationship with the display.
Asendorf's 'living' systems liberate generative art from being confined to thumbnails on marketplaces, where it is often viewed as just one of many elements on the screen. His artworks, dominating the browser window, invite viewers to abandon their other activities and immerse themselves in the meditative interplay of macro and micro blocks.
The system's outputs are characterized not so much by their lack of order as by the rhythm with which every form that arises within them vanishes. They represent an infinitely layered space in which all forms emerge only to vanish instantaneously.
Perhaps surprisingly, there is a deep satisfaction in experiencing this endless emergence and disappearance of forms, like waves that create patterns in the sand only to wash them away again.
Anyone who has sat daydreaming in front of a screensaver as a child, mesmerized by the movement on the screen and oblivious to their actual tasks, will find a sense of nostalgia and recognition in the absorption offered by Asendorf's Cargo.
We're excited to unveil this month's Every 30 Days poster as our first poster with design input from the featured artist. Designed and conceived by Atley Kasky, Asendorf put the work through the original Cargo algorithm. Kasky and Asendorf worked together to release the final output.